TOP TIPS FOR BEING PREGNANT IN SUMMER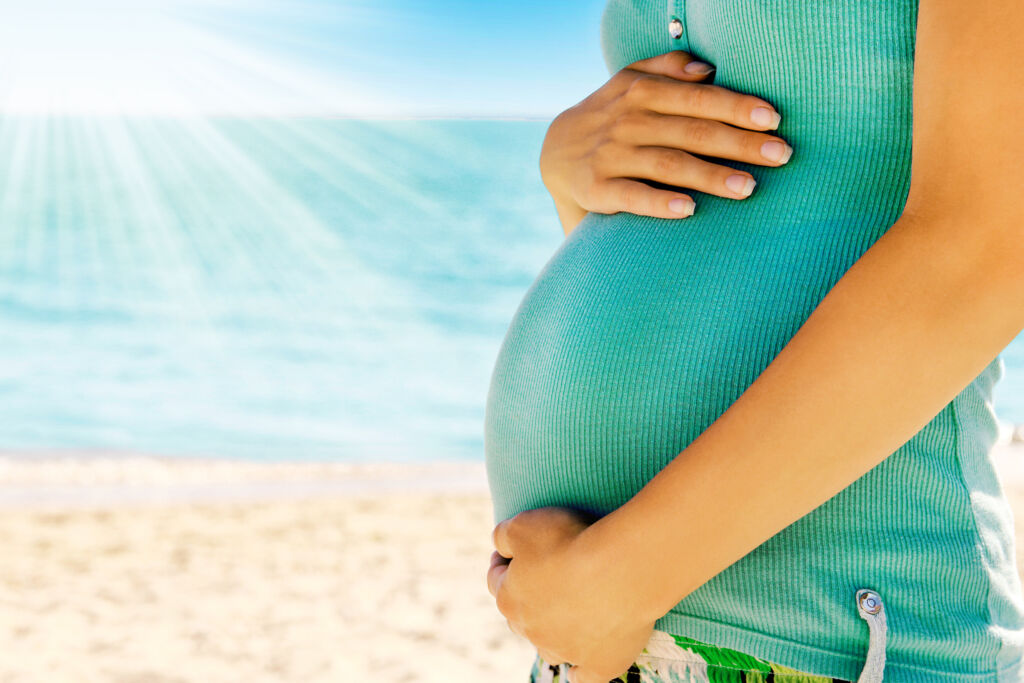 Pregnant this summer and feeling the heat? It can be a struggle, I know! Summer is hot for anyone, but when you're pregnant,
you feel the heat even more. Women who are pregnant have an increased blood volume, making them feel warmer. They also
have extra fluid in their bodies which can mean swollen feet and ankles, and an increased metabolic rate can make them sweat
more.
Good news though – there are practical things you can do to make yourself comfortable and really enjoy your summer pregnancy!
Check out our top tips for being pregnant in summer:

Stay Hydrated  
 
It's super important for you and your baby to stay hydrated. Drink at least 8 to 10 glasses of water a day, and even more on days
when you are exercising.
If you find drinking water on its own boring and a challenge, try adding things to taste, such as a squeeze of lemon juice, slices
of cucumber, or ice and some lemon & lime fruit syrup (the Barker's one is super tasty which you can find at the supermarket).
And if you feel like you are missing out when your partner and friends are enjoying alcoholic drinks, there are a truckload of super
yummy mocktail recipes online. Try out this refreshing rose water mocktail which I personally haven't been able to stop slurping
on all summer long!
Rose Lemon Spritzer

INGREDIENTS
2 tablespoons rose water (optional)
2 tablespoons fresh lemon juice
1-2 tablespoons honey to taste (use agave if vegan)
a few drops of blood orange or pomegranate juice for colour (optional)
3/4 cup sparkling water or more to taste
fresh roses for garnish (optional)
METHOD
Combine all rose water, fresh lemon juice, honey and blood orange or pomegranate juice (if using) in a cocktail shaker
and fill with ice. Shake until combined and then strain into a glass. Pour in the sparkling water. Garnish with fresh roses. DRINK!
Get in the Water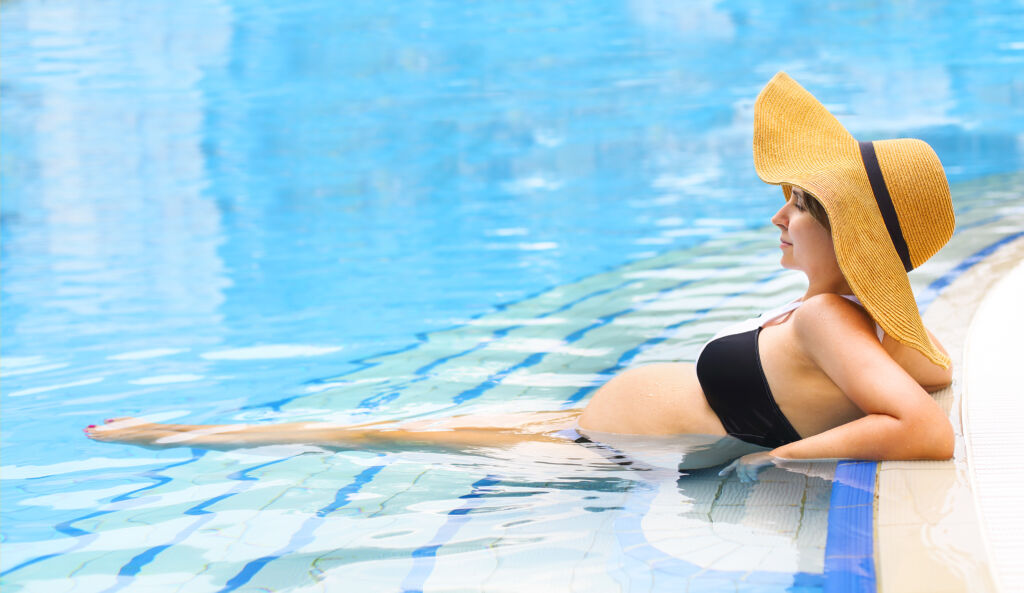 Sit in a paddling pool in your back yard, go to your local community swimming pool or if you are lucky enough to have one or
know someone with a pool – use it! Getting in to the water is a great way to cool off and help get comfortable.  Swimming is a
great, low impact form of exercise which is gentle on the body. It is especially good for those pregnant women with round
ligament pain, and can help reduce swelling.
Rest
Clear your calendar. If it doesn't have to be done, don't do it. Rest as much as you can before baby arrives.
Avoid Direct Sunlight
Try to stay indoors as much as you can and in air conditioning or close to a fan if possible. If you do spend time outside,
make sure you apply sunscreen at all times – pregnant women have sensitive skin. In addition, do exercise first thing in
the morning or in the evening (if you have the energy) when it's cooler.
Dress for the Heat
Sounds obvious but taking a bit of extra time to think about what you wear before an outing or day ahead can make a huge
difference. A tight waistband for example can make you super uncomfortable. Think loose fitting, breathable clothing made
of natural materials such as cotton. Great options include:
– Maxi dresses
– Long t shirts
– Flowy skirts/pants
– Ditching the denim
– Jandals/Birkenstocks
– Wearing a hat to reduce sun exposure
Check out www.rockyourbump.co.nz for an awesome selection of comfortable pregnancy (and breastfeeding friendly) clothes,
which will keep you looking super styly as well.
Put Your Feet Up
Literally. Due to the extra fluid in your body your feet and ankles may be swollen. Try sitting down with your legs stretched
out in front of you and elevated to your heart level or above. You're welcome ?
Other tips which will prevent fluid pooling in your feet include gentle exercise and avoiding standing for prolonged periods.
Visit a Day Spa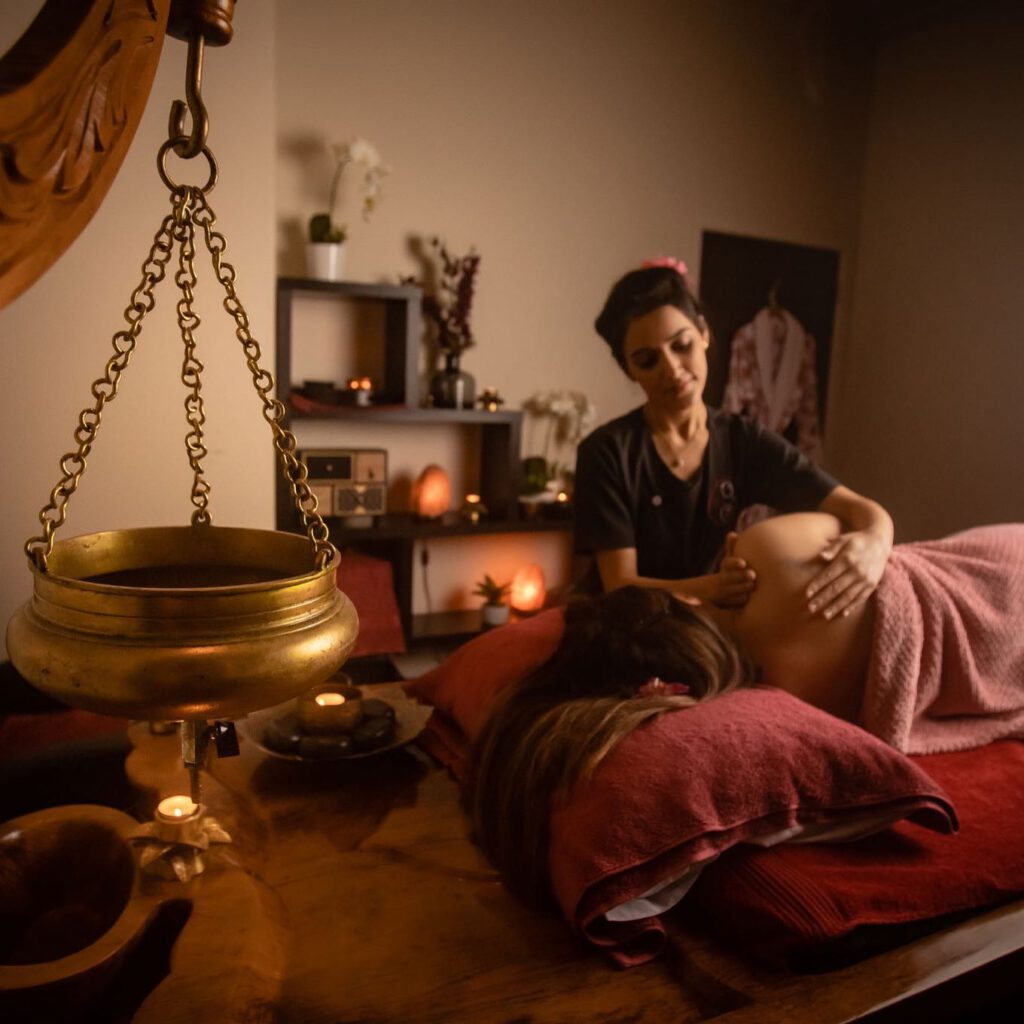 A visit to a day spa for a massage or beauty treatment can do wonders for your soul. It doesn't have to be an extravagant
treatment, just a simple manicure or leg wax can make you feel more polished, confident and relaxed. Half an hour (or
an hour, two hours…as long as you have!) of 'me' time can be all it takes to feel rejuvenated and revived.
Bella Mama now offer a full range of relaxing beauty treatments, just in time for the summer months. Pedicures, manicures,
waxing, facials, lash and eyebrow tints are just some of the treatments available at our Lake Road wellness centre. Products
used for the treatments are all organic, as it's important for pregnant women to avoid harsh chemicals on their bodies.
Bring on a bit of pampering!
Spritz Yourself
Carry a spray bottle of water around with you to spritz your face and body. Soooo good.
You could also try applying a cool, damp flannel to the back of your neck, forehead, or top of your head to help keep
your body temperature down.
Other Tips
Reduce, but don't eliminate, salt from your diet. Salt contains iodine, an essential element for the health of the baby
Have a good breathing pattern. Breathing lets off heat  
Lie down for 30 to 60 minutes a day, either at the end of the workday or during lunch
Remove your rings if they feel too tight. It is common to have swollen fingers in the heat particularly when pregnant
So there you have it. By following these simple tips for being pregnant in summer, you can enjoy your summer pregnancy MUCH much more.
Take care of yourself and that beautiful bump!  Not too much longer to go until you can hibernate in winter and snuggle up
with your newborn.
The Bella Mama Team x
To book a beauty treatment at Bella Mama Pregnancy Spa and Wellness Centre on Auckland's North Shore, simply
book online or give us a call on 09 445 7591.