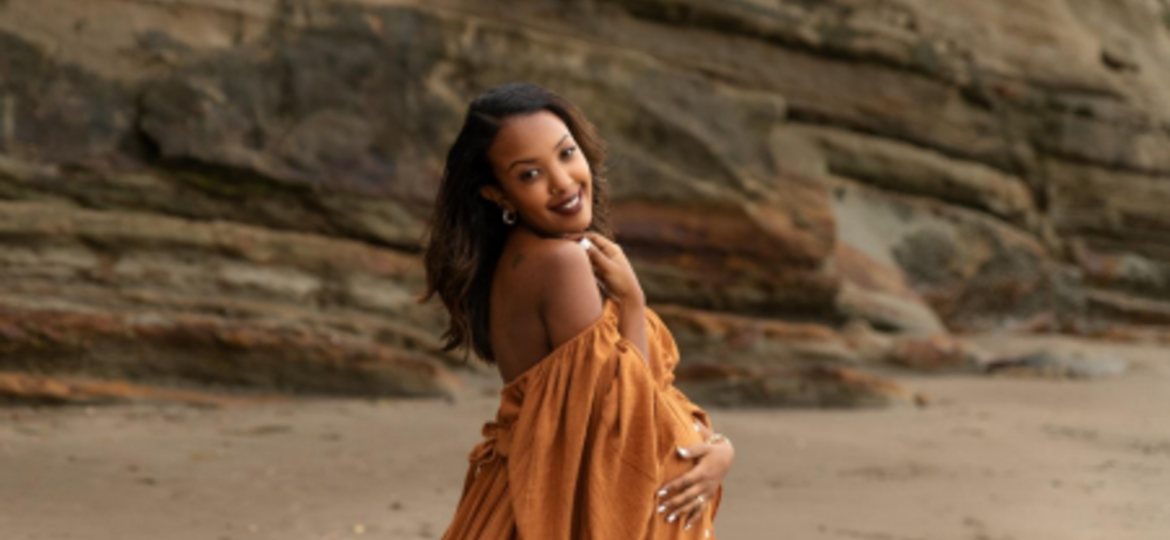 Whether you are expecting your first child or the 6th – Congratulations, how exciting! Growing a tiny little human is the most special time in your life and I am so happy to see you would love to have these special moments captured. With years of experience working as a professional Maternity photographer, I have learned where my lovely mums need the most support, so for you Mama, I have gathered 5 Top secrets to a successful maternity photo shot, where you will feel comfortable, confident and beautiful like a queen.
The best time to lock in your Maternity portraits
The best time to lock in your maternity portraits will depend on the timing of your pregnancy and the style of photos you want to achieve. Generally, it is recommended to schedule your maternity photo session between 28-36 weeks of pregnancy. During this time, your belly will be visibly round and prominent, but you are not likely to be too uncomfortable or experience significant swelling.
However, it's always important to consult with your photographer for their professional opinion and to take into account any potential complications or variations in your pregnancy. Also, keep in mind that popular photographers may book up quickly, so it's a good idea to schedule your session well in advance to ensure availability.
In terms of seasons, if you're planning an outdoor shoot, it's best to consider weather conditions and plan accordingly. For example, if you're planning to take photos during the summer months, try to schedule your session for early morning or late afternoon to avoid harsh sunlight and high temperatures. Alternatively, if you're planning a winter maternity shoot, consider a cozy indoor location with soft lighting to capture the warmth and intimacy of the season.
Which Maternity photographer should I choose?
Choosing a maternity photographer can be a personal decision, as different photographers have different styles, specialties, and pricing options. Here are some tips to help you choose a maternity photographer:
Do your research: Look for photographers in your area who specialize in maternity photography. Check their websites or social media pages to see their portfolios, client reviews, and pricing information.
Consider their style: Look for a photographer whose style matches your vision for your maternity photos. Do you prefer traditional portraits, candid shots, or artistic, stylized images?
Experience: Consider a photographer who has experience shooting maternity portraits, as they will be better equipped to handle different poses, lighting, and angles that flatter your bump.
Professionalism: Choose a photographer who is professional, responsive, and easy to work with. You want someone who can make you feel comfortable and relaxed during the shoot, just like a coffee date with your best friend!
Pricing: Consider your budget when choosing a photographer. While some photographers may be more expensive, they may also offer more services or higher-quality images. It's important to find a balance between quality and affordability.
Availability: Choose a photographer who is available during your preferred time frame and can work around your schedule.
Ultimately, the best maternity photographer for you will depend on your personal preferences, budget, and vision for your photos. Take the time to research and interview potential photographers to find one that you feel comfortable and confident working with.
If you are looking for a professional Maternity photographer in Auckland, we highly recommend you check out Elia Making Memories, Auckland Maternity, Newborn & Family photographer and Alena Iakusheva from LifestylePhoto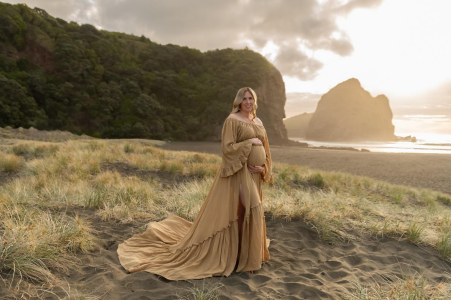 Check out the client closet of your favourite Maternity photographer
While growing a little human, your body can change, and you might feel insecure about posing in front of the camera. While I believe that every woman's body is beautiful, I hear you mama! Outfits are the number 1 thing that can either make or break your beautiful Maternity photos, so it's very important to choose the right ones! A lot of professional photographers have a variety of Luxury Maternity gowns available for mums to wear. Reach out to your favourite photographer and chat with him/her about your concerns so they can offer you the best styling advice that will fit you and your family.
What outfits to avoid when getting ready for your maternity photoshoot?
When getting ready for your maternity photoshoot, it's important to choose outfits that flatter your pregnant figure and make you feel comfortable and confident. Here are some outfits to avoid:
Tight clothing: Avoid clothing that is too tight, as it can be uncomfortable and unflattering. Tight clothing can also leave indentations on your skin, which can be difficult to edit out in photos.
Busy patterns: Avoid clothing with busy patterns, as they can be distracting in photos. Instead, opt for solid colours or subtle prints that will complement your natural beauty.
Loud logos or slogans: Avoid clothing with loud logos or slogans that can be distracting in photos. You want the focus to be on your belly, not your clothing.
Ill-fitting clothing: Avoid clothing that is too loose or too baggy, as it can make you look larger than you are. Instead, choose clothing that fits well and accentuates your bump.
Uncomfortable shoes: Avoid wearing uncomfortable shoes that can make you feel awkward or unbalanced during the shoot. Instead, opt for comfortable shoes that you can move around in easily.
Clothes that don't make you feel confident: Avoid wearing anything that doesn't make you feel confident and beautiful. You want to feel your best during the shoot, and wearing clothes that don't make you feel good about yourself can affect your confidence in front of the camera.
Remember, the most important thing is to wear something that makes you feel comfortable and confident. Talk to your photographer beforehand to get their input on what outfits will work best for your shoot.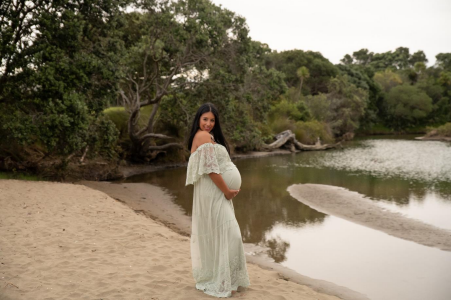 Choose the location that will match your lifestyle and home
Each photographer will be happy to offer you a few possible locations where they prefer to work, but If you are not sure which one to choose, I want you to think about your personal style and what kind of photographs you can incision hanging at your wall. Choose a location that reflects your personality and style. Do you prefer natural and rustic settings or modern and urban environments? Choose a location that will complement the type of photos you want to achieve. For example, if you want romantic and intimate photos, a beach or garden location could be a good option, while if you are looking for more moody and intimate portraits, find a secret spot in your favourite local forest.
Wear the lingerie that will make you feel beautiful and confident
If capturing the bare belly sounds like something you would love to capture, choosing the right lingerie is very important.
Choose lingerie that fits well: Look for lingerie that fits well and accentuates your curves. Avoid lingerie that is too tight or too loose, as it can be unflattering in photos.
Opt for comfortable fabrics: Choose lingerie made from comfortable fabrics that won't irritate your skin or make you feel itchy during the shoot. Cotton, silk, or breathable materials are good options.
Consider your body shape: Choose lingerie that flatters your body shape and emphasizes your best features.
Choose colours that complement your skin tone: Choose lingerie in colours that complement your skin tone and make you feel confident. Lighter colours like pastels or white can create a soft, romantic look, while darker colours like black or navy can create a more dramatic look.
Keep it simple: Opt for simple and elegant lingerie that won't distract from your baby bump. Avoid lingerie with too many frills, patterns, or embellishments, as it can be distracting in photos.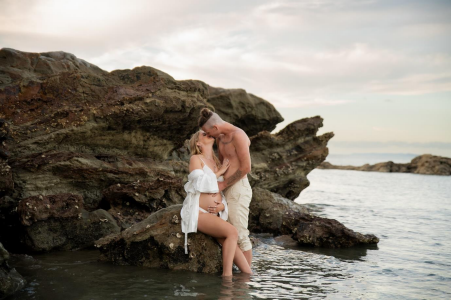 Treat yourself to professional Hair and Makeup
Professional hair and makeup are important for a photo session because they can help enhance your natural beauty, ensure you look your best, save time, create a cohesive look, and boost your confidence. If you're considering hiring a professional hair and makeup artist for your photo session, be sure to do your research and choose someone with experience and a style that matches your preferences. If you are choosing an outdoor Maternity session, Professional Hair and Makeup will also be more prone to weather challenges during the session and will allow us to play with your hair for more high-end-looking maternity photos
The Most important? Have Fun!
Capturing your growing family before your little one joins you on the earthside is once in a lifetime opportunity, so I want you to have the best possible experience, with the result of amazing luxury Maternity portraits everyone will talk about for generations! Look deep into your partner's eyes, share love, kisses, and smiles & fall into each other's arms, just like the first time. Forget about the camera, and just enjoy!
Bella Mama New Zealand: Pregnancy Spa and Wellness Centre, the world's only franchise business of pregnancy massage.
Proudly powered by WordPress