AUCKLAND'S LEADING SPECIALISTS IN
PREGNANCY MASSAGE
Pregnancy is a remarkably dynamic journey. The expectant mother is never more giving than when she is ripe and full of life, carrying her baby through the movements of 10 moons.
We realise that sometimes your womb can feel heavy under the weight of a world that is fast-paced and demanding.  At Bella Mama, we have a team of highly educated therapists. So let our therapists nurture your body and mind using techniques perfected in advanced training in pregnancy massage.
Our treatments are completely safe, beneficial, and deeply relaxing for you and your baby; a perfect opportunity to pause and consciously connect to the magic happening within you.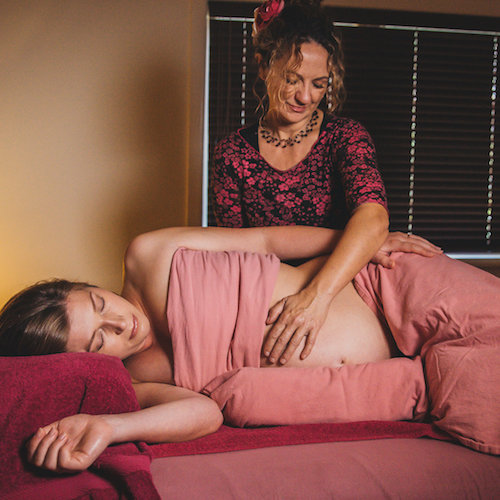 6 important benefits of Bella Mama® pregnancy massage include…
Enhances the health of you and your baby
Massage treatments have been proven to benefit all of your body's systems including muscular, circulatory, digestive and hormonal.  Improved circulation brings more oxygen and nutrients to the cells in your body and also that of your baby – nourishing the both of you.
Eases pregnancy discomforts
Pregnancy doesn't have to be painful!  Massage can soothe back and shoulder pain, pubic discomfort, sciatica, cramps, sore hips and aching legs.  Ask about our specialist remedial massage treatments that can help to remove pain and discomfort from your body.  You can choose what kind of pressure you prefer – light, medium or a firmer touch..
Reduces swelling
Eases oedema in the legs, feet, hands and wrists.  Soothes the discomfort of varicose veins and achy joints. Reduction in swelling, fluid retention and waste products also helps to improve your energy levels, making you feel less fatigued.
Increased relaxation and decreased stress levels
Pregnancy is a time of great change and this, along with fluctuating hormones and broken sleep can sometimes cause stress levels to rise.   This is ok, we can't avoid day to day stress in our lives.  The most important thing is that it is balanced with time to relax and be nurtured. Regular Bella Mama massage give you the space to deeply relax and rejuvenate and the time to enjoy your pregnancy and transition into motherhood. Relaxed mama = happy baby!
Improves sleep and reduces depression
With an enhanced ability to deeply relax you may also notice that your sleep improves. At Bella Mama we can also teach you the most comfortable and supportive sleeping positions during pregnancy.  Massage has also been documented to reduce the symptoms of depression in pregnant and post-natal women.
Prepares you for labour and birth
Approaching your baby's birth day, massage treatments will improve your flexibility and energy levels as well as helping you to develop mind/body awareness. This means that  you  become aware of where you are holding tension within your body and are able to consciously release it.  An essential skill in the birthing room.   A recent study also showed that massage from 36 weeks onward helped to increase the mother's levels of oxytocin (the mothering hormone) resulting in labours that were quicker with fewer complications both before and after birth. Ask about our 'birth preparation ' massage treatments which include a special essential oil blend and acupressure points.
Shannon Dunn Coutts
So tranquil, so perfect for mamas to be! Hands down one of the best massages I've ever had. There's something special about going to a spa where pregnancy is the only focus and the therapists know exactly what a pregnant woman needs. Highly recommended as an essential for pampering throughout pregnancy and during postnatal recovery. Thanks Bella Mama

Tanya Burrage
My weekly massages have been wonderful. Not only have they helped ease all the aches and pains of pregnancy but they have allowed me some weekly indulgence and pure relaxation. I thoroughly recommend Bella Mama massages to anyone wanting some time out and "me time" before your baby arrives.

Jenny P
I have been coming to see Jo at Bella Mama for seven years and I plan on never stopping! The massages are amazing and respectful and small personal details and preferences remembered. I adore Jo and would recommend Bella Mama and also the pregnancy and labour massage course to anyone!  Jenny P

Dee Hilton
This is my second time at Bella Mama, the first time when I was with pregnant with my son 2 years ago.  Sophie gave me my treatment this Saturday and she was amazing, so friendly and gave a fantastic massage. I would highly recommend Sophie to my friends!  I had time in the relaxation room afterwards which was perfect….loved the touches with the books and the grapes etc.
Once again Bella Mama you did not disappoint!! I felt like a new woman afterwards.

Anna Papa and Ollie (age 5 months)
"Being pregnant with my son was a wonderful time in my life and having Bella Mama massages played a significant part in making it such a special time for me. A massage was not an indulgence, it was a necessity both physically and emotionally. It was a way to connect with the changes taking place in my body and the new life that was developing inside me. Jo, through her wonderful nurturing manner, was able to relieve both the physical stresses that pregnancy put on my body as well as the emotional strain and stress that I felt in my busy day to day life. After the birth of my son a post natal massage was a welcome relief from the pressures of new motherhood which had brought on a whole new range of physical and emotional strains!(and the cookies were very yummy too!) I would recommend a regular Bella Mama massage to any expectant mum as a necessary element in preparing themselves physically, emotionally and spiritually for the new phase of their life they are embarking upon."

Ester Tongs
Wow. Just wow! I am feeling 100 million times better. After a shitty start to my day which included falling awkwardly down a concrete ramp – I just had a 75 minute full body pregnancy massage by Jo at Bella Mama. Actually much more than a massage – a healing experience. My hips are not sore (for the first time in a long time!) and I am so relaxed I feel like I am floating. Thank you so much!! I am so lucky! Can't recommend this enough!

Sammy Wilson
Would 100% recommend! Was the most amazing experience I feel refreshed, relaxed and pain free. Sophie honestly has magic hands, she also is so friendly and has a beautiful energy. I felt so comfortable while getting massaged I even bought the pillow I was laying on. Can't wait to go back.
Stephanie M
I cannot speak highly enough of the cherishing experience that is a visit to Bella Mama. It is a place where you feel welcomed and valued. The success is all in the details – the beautiful decor, peaceful music, soothing tea, warm foot baths, scented oils, soft blankets, hot towels, and of course, the excellent massages. I have been lucky enough to be cared for by Debs for most of my pregnancy. She is encouraging and supportive, and a talented masseuse. From one session to the next, she remembers the little details I have told her, whether it be the sex of my baby, any pregnancy developments, or just events in my life. It is such careful attention that makes you feel like a special client, and not a number. I really believe that the regular relaxing massages have positively contributed to my pregnancy health to date. I highly recommend Bella Mama and Debs to others.
Thank you again, and congratulations Jojo on creating a business that brings such joy and pleasure to others.
Stephanie M
Full Bloom Pregnancy Massage Ritual with Nap Time & Belly Balm
The Ultimate Pampering Package for Mum to Be. This pregnancy ritual begins with our Full Bloom Pregnancy Massage. You are then snuggled up in a cozy robe and invited into the seclusion of our private Peaceful Mama Nap Room where you are served a cup of 'Peaceful Mama' organic herbal tea and a delicious snack. Relax back in the recliner and choose to snooze, read or listen to relaxing music, guided meditations or birthing affirmations. To complete your experience you also receive some of our Beautiful Belly Balm with pure essential oils of Lavender and Sweet Mandarin to nourish and moisturise your growing belly.
Full Bloom Pregnancy Massage (with Sweet Feet Treat)
Includes both our blissfully relaxing In Bloom Pregnancy Massage together with a soothing Sweet Feet Treat. After a lavender foot soak, your feet and lower legs are exfoliated with spearmint and lavender sugar scrub. Following your massage a refreshing peppermint balm is applied to your feet, finishing with a deeply relaxing pressure point foot massage and warm towels – you will leave walking on clouds!
NB. The Sweet Feet Treat can be swapped for a Geranium and Sandalwood Mini Facial.
Full Bloom Pregnancy Massage with Belly Facial
Includes both our blissfully relaxing In Bloom Pregnancy Massage together with a soothing belly facial. It is our 4 -steps exceptional relaxing treatment for pregnant women and new mothers. Belly facial helps to increase elasticity to prevent stretch marks, itchiness, discoloration, and dryness. As a result, your belly will be smoother and healthier before and after delivery.
NB. We use 100% natural and organic products. It is suitable after 20 weeks. 
In Bloom Pregnancy Massage
Our specialist In Bloom Pregnancy Massage includes a full consultation and soothing lavender foot soak. Tailored to your needs this treatment can focus on aching backs and/or sore hips, or just enjoy a deeply relaxing full body experience. You may also be given advice on comfortable sleeping positions as well as gentle stretches to ease tension. Massage in pregnancy has so many benefits for you and for your baby!
NB: 30-minute (for neck, shoulder & back only) and 45-minute express massage do not include foot soak & cannot be booked online, please call to make a booking
75 mins – $169  |  60 mins – $139  
Birth Preparation Massage
The Birth Preparation massage treatment will support and strengthen the pregnant mama giving time and space for her to deeply relax and connect with her baby in those last exciting yet sometimes uncomfortable weeks approaching her due date. Suitable from 36 weeks onwards, the time spent relaxing will encourage her body to produce more oxytocin and endorphins, hormones which will be valuable to her during the last few weeks of pregnancy and during birth. Massage will also lower her stress levels and ease pregnancy aches and pains, benefitting both mother and baby as well as giving some valuable 'me' time before becoming a mama.
During this treatment, pure essential oils that are traditionally used in late pregnancy are blended and used in a deeply relaxing, restorative treatment designed to prepare her body for birth. Sore tired feet are pampered with a reflexology foot massage including acupressure points to help the baby move into optimum position. Whether she is planning a natural birth or C-Section, studies have shown that the more relaxed, healthy and happy a mother is the better the outcomes for both her and her baby both during and after birth.
NB: Please note that this treatment is suitable from 36 weeks and will not stimulate contractions or bring a baby on early 🙂
75 mins – $169  |  60 mins – $139
In Bloom Pregnancy Reflexology
Your feet are soaked in a relaxing lavender foot-bath. Feel your tension melt away as you snuggle up in soft blankets while your feet are pampered with a spearmint pressure point Reflexology Foot Massage designed to re-balance and revitalize leaving you feeling blissfully relaxed. This treatment is a wonderful way to prepare your body for birth.
*Only available with selected therapists
At Bella Mama we love to nurture and pamper mamas throughout pregnancy, birth, and motherhood.  However, we also understand how busy this time can be for many mums (and dads!).  That's why we have created a home visit massage service so that we are able to treat mamas in the comfort of their own home. This is ideal for those who may not be able to make it into our clinic and especially suited to pregnant mamas who may not want to travel far away from home.  You can also book in your partner at the same time and receive a $25 discount off the total cost of both treatments.
90 mins – $249  |  75 mins – $219  |  60 mins – $199
*Extra travel costs may occur for outer Auckland area, please call to discuss.