NEW ZEALAND'S LEADING SPECIALISTS IN
POSTNATAL MASSAGE
The birth of your baby will bring joy, exhilaration and profound changes and challenges to your life. What better way to encourage optimal emotional and physical recovery from your incredible effort than a specialist post natal massage? Regardless of the way you birth, we acknowledge the hard work you do to bring your baby earth side.
Because of this, Bella Mama believes that every new mother deserves to be celebrated and honored in a way that is conducive to the goddess she is. Post-natal massage is a wonderful way to heal and ease the discomforts in your body following your pregnancy & birth, improve energy levels and fill your cup so you can live your most vibrant life as a new mother.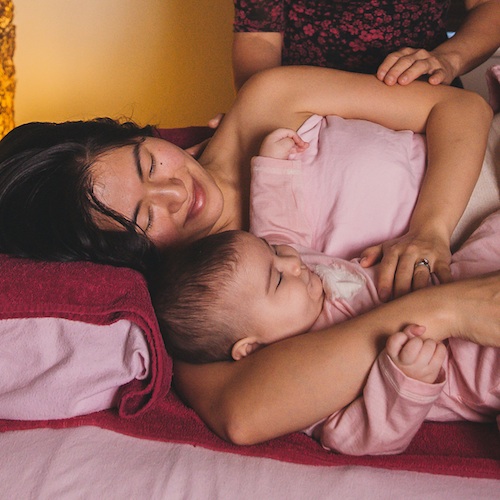 Five Important Benefits of Postnatal Massage …
Restores Your Body
Following your pregnancy and birth your body has undergone many changes and you may even feel that it is unfamiliar to you. Post natal massage treatments will help you to re-adjust and return to your non-pregnant state. It will re-establish the integrity of the pelvic structure as well as facilitate healing. Specialist abdominal techniques will also help to tone and flatten the abdominal muscles and skin.
Eases Aches & Pains
Your body has just done an incredible job of growing, birthing and now caring for your precious baby.  Yet all of these things can sometimes cause strain, tenstion and discomfort.  Postnatal massage will help soothe ease post-pregnancy back pain, joint stiffness and 'feeding shoulders'.   You'll leave feeling refreshed, revived and relaxed.
Caesarean Recovery
A caesarean is the only major operation where you get handed a baby to look after straight afterwards!  Recovering from this huge surgery needs rest and tender loving care! Massage will promote recovery from c-section births including healing of the incision, abdominal muscles healing and scar tissue reduction.  Just check with your care provider before booking your treatment with us.
Supports You Through Emotional Adjustments
The last weeks of pregnancy, your birth and the first few months of motherhood are some of the most joyful, challenging, difficult, transformational and incredible days of your life.  In many different cultures this time following the birth of your baby is seen as sacred.  A time when a new mother must rest deeply and be cared for by others so that she can do the important work of recovering from pregnancy and birth and falling in love with her baby.  Allow yourself to be nurtured and supported as you make the huge transition into motherhood.  We are there to care for you as you care for your baby.
Nurtures and Relaxes You
In the first few weeks of motherhood your body is recovering from the huge effort of pregnancy and birth.  Not only that but you are also doing a 24/7 job (the only one you'll ever be asked to do in your life!!) .  In order to keep your energy levels up and to nurture and make milk for your baby it is absolutely imperative that you have time to deeply rest and rejuvenate.  Making time for a regular massage will benefit not just your body but also your family by filling your cup.

Poppy - mum of baby Rose aged 3 months
A massive thank you for an absolutely heavenly home visit postnatal massage yesterday evening – I had the best sleep
I have had in months and feel like a new woman this morning!!

Amy Hinchco
Today I had the most incredible massage experience at Bella Mama.. I was booked in for a New Bloom Post Natal Massage with Javanese Spice Belly Wrap. It was heaven. I feel like a human again! Thanks Jenny!
New Bloom Post Natal Massage Ritual with Nap Time & Belly Balm
The Ultimate Pampering Package for the newborn mother. This empowering post-natal ritual begins with our New Bloom Post Natal Massage with use of a warm Javanese Belly Wrap to stimulate circulation, increase healing and circulation, as well as promote renewed tone of the abdomen after birth. Following your ritual, you are snuggled up in a cozy robe and invited into the seclusion of our private Peaceful Mama Nap Room. Here, you are served a cup of 'Milkmaid' organic herbal tea and a delicious snack to keep you nourish you the inside. Relax back in the recliner chair where you can choose to snooze, read or listen to relaxing music, guided meditations or mantras. To compliment the experience you will receive some of our Beautiful Baby Balm to take home where you can share the benefits of  massage with your precious babe.
New Bloom Post Natal Massage with Traditional Javanese Spice Belly Wrap
This New Bloom specialist Post-Natal Massage includes a traditional Javanese belly wrap designed to care for your body in the post-natal period. The wrap is teamed with an abdominal massage, and a blend of exotic herbs and spices applied to your belly. The wrap is then is covered with a warm pack (known traditionally as 'mother roasting') which helps to tone the abdominal muscles, promote circulation and healing to the organs and aids in tightening the skin. While the soothing wrap does its work, you will receive a deeply relaxing neck, scalp and face massage with one of our specialty blends of essential oils.  The wrap is designed to be worn to go home and removed after few hours. We recommend having three to six post-natal massages and wraps to receive the full benefits.
New Bloom Post Natal Massage with Belly Facial
This New Bloom specialist Post-Natal Massage includes an organic belly facial designed to care for your body in the post-natal period.  It is our 4 -steps exceptional relaxing treatment for new mothers. Belly facial helps to increase elasticity to prevent stretch marks, itchiness, discolouration, and dryness. As a result, your belly will be smoother and healthier before and after delivery.
NB. We use 100% natural and organic Phyts and SpaRitual products. 
New Bloom Post Natal Massage
Our New Bloom specialist Post-Natal Massage treatment is the ideal way for a new mum to receive the care and attention she deserves. Just as you nurture your baby so lovingly, we believe it is vital for you as a new mother to be physically supported as you transition from maiden to mother. Our therapists combine a mix of massage techniques and acupressure points to increase vitality and soothe aches that come with care of baby; back and shoulder pain from breastfeeding, tense muscles from carrying child, soreness following birth. Abdominal massage helps to flatten and tone both the skin and muscle layers of your belly, promoting optimal recovery. Let us care for you during this intense yet delicate time.
NB: 30 minute express massages do not include foot soak & cannot be booked online, please call to make a booking
75 mins – $169  |  60 mins – $139  
At Bella Mama we love to nurture and pamper mamas throughout pregnancy, birth, and motherhood.  However, we also understand how busy this time can be for many mums (and dads!).  That's why we have created a home visit massage service so that we are able to treat both mamas and papas in the comfort of their own home. This is ideal for those who may not be able to make it into our clinic and especially suited to new mamas for post-natal care.
90 mins – $249  |  75 mins – $219  |  60 mins – $199
*Extra travel costs may occur for outer Auckland area, please call to discuss.